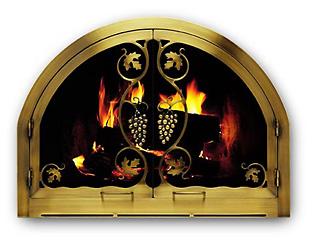 FDM MFG has been the leader in the manufacturing of Custom Fireplace Doors for over 35 years. With lead times inside of 4 weeks all year round, we provide quality custom fireplace glass doors, wire mesh doors and free standing screens with your time in mind!
Notice to buyers:
FDM MFG has no affiliation with Fireside Solutions or Fireplace Doors Direct
FDM MFG LTD is located in the lower mainland of British Columbia, Canada where we do all of our custom, hand crafted and computer generated designs in house, which allows us to keep turn around times low and quality control high.
We offer the convenience of several different styles, options and finishes to suit all decors
20% of energy loss is due to poorly fitted fireplace flue dampers, our fireplace doors will virtually eliminate unnecessary heat loss in the winter, and keep heat out in the summer
Safety with FDM MFG LTD tight fitting doors, you do not have to wait until the fire is completely out, simply close the doors on the dying fire and keep any would be sparks where they belong
Please note: we always recommend burning with the doors open!